SAVE/ADOxx
2016.06.29 13:38:46 (*.70.193.131)
7138
1. Requirements
Operational Requirements

Producer

produces two resources, R1 and R2.

Produce

stores the resources in

Buffer

in order.

Producer

informs

Buffer

of the order of R1 and R2, or R2 and R1.

Consumer

consumes the resources from

Buffer

in order.

The order of the consumption is formed to

Buffer

by

Consumer

.

Secure Requirements

Security:

The order should not be violated, since the first resource contains security information to decode the second resource.

The propagation between the first and the second should be less than 30 seconds.

Safety

The resources produced by

Producer

should be consumed by

Consumer

less than 5 minutes.

2. δ-Calculus
PBC=P[R1∥

R2]∥B∥C

P=(

PB

((Send R1) ̅ )

.put R1.put R2+PB((Send R2) ̅ ).put R2.put R1).exit

B=(

PB

(Send R1)

.get R1.get R2+PB(Send R2).get R2.get R2).put R1.put R2.exit

C=get R1.get R2.exit

R1=P put.B get.B put.C get.exit

R2=P put.B get.B put.C get.exit
3. ITL View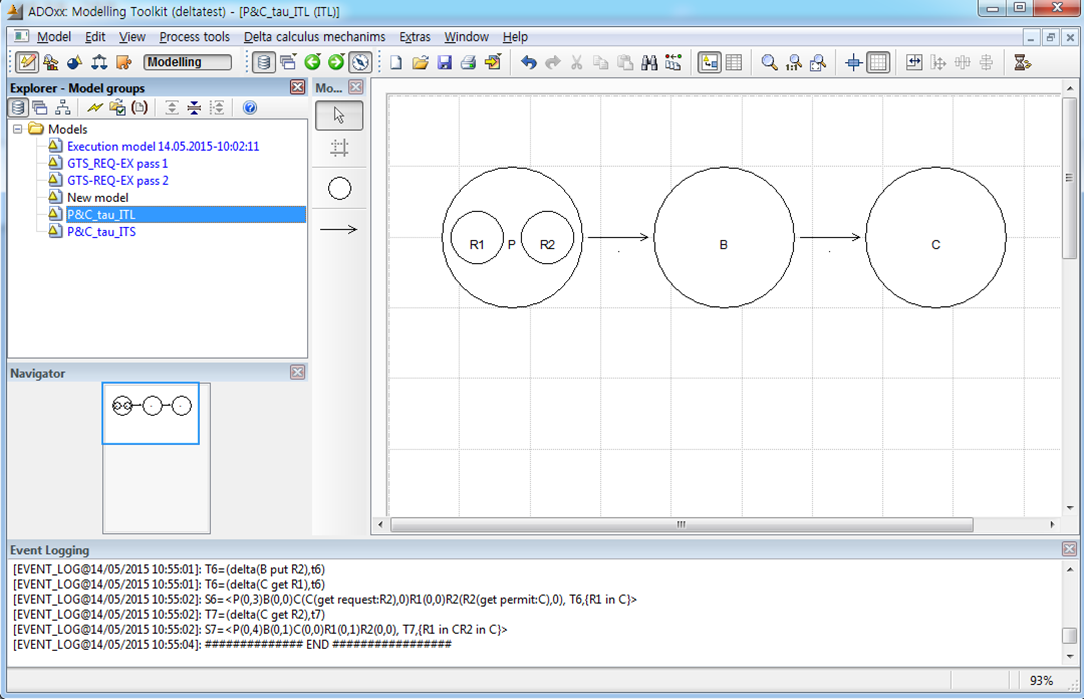 4. ITS Views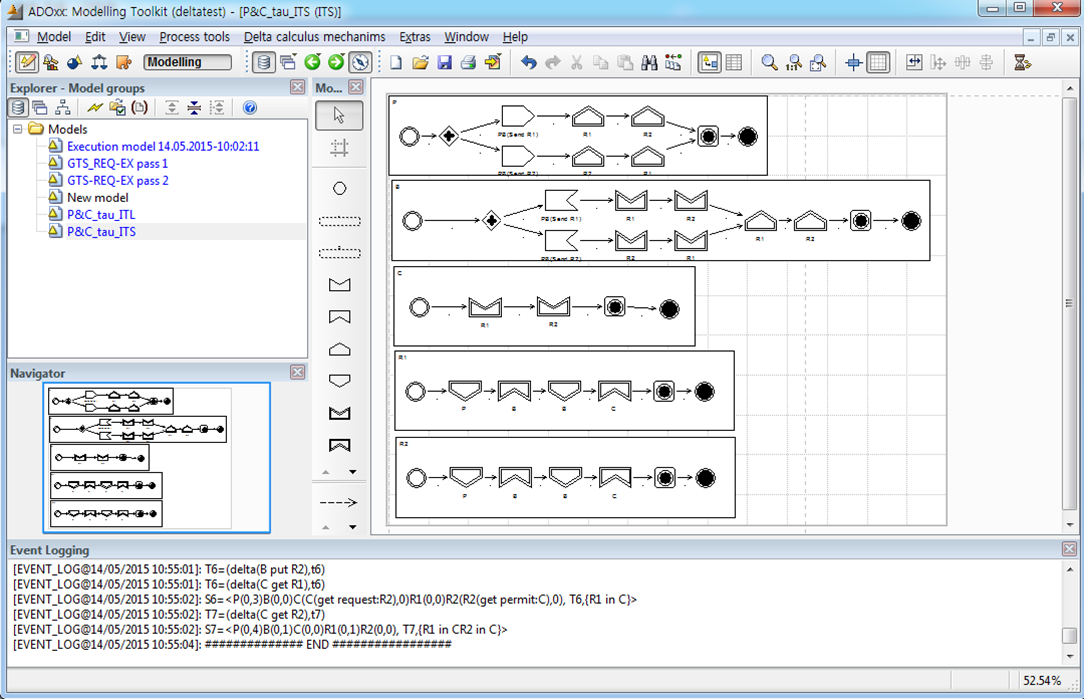 5. Execution Models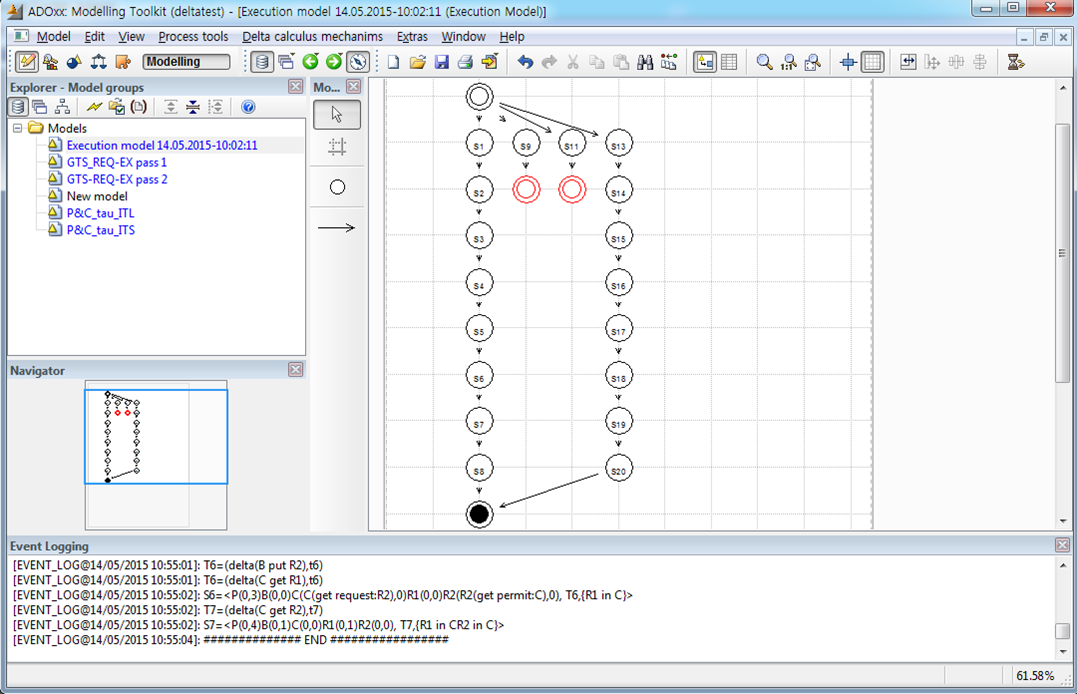 6. Simulation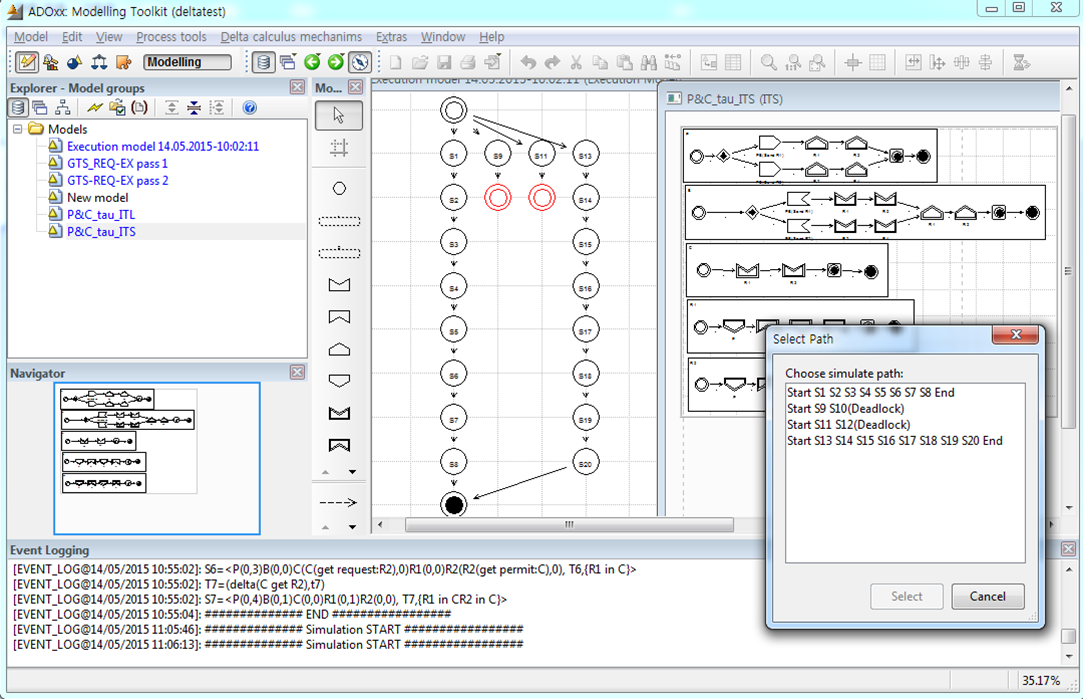 7. GTS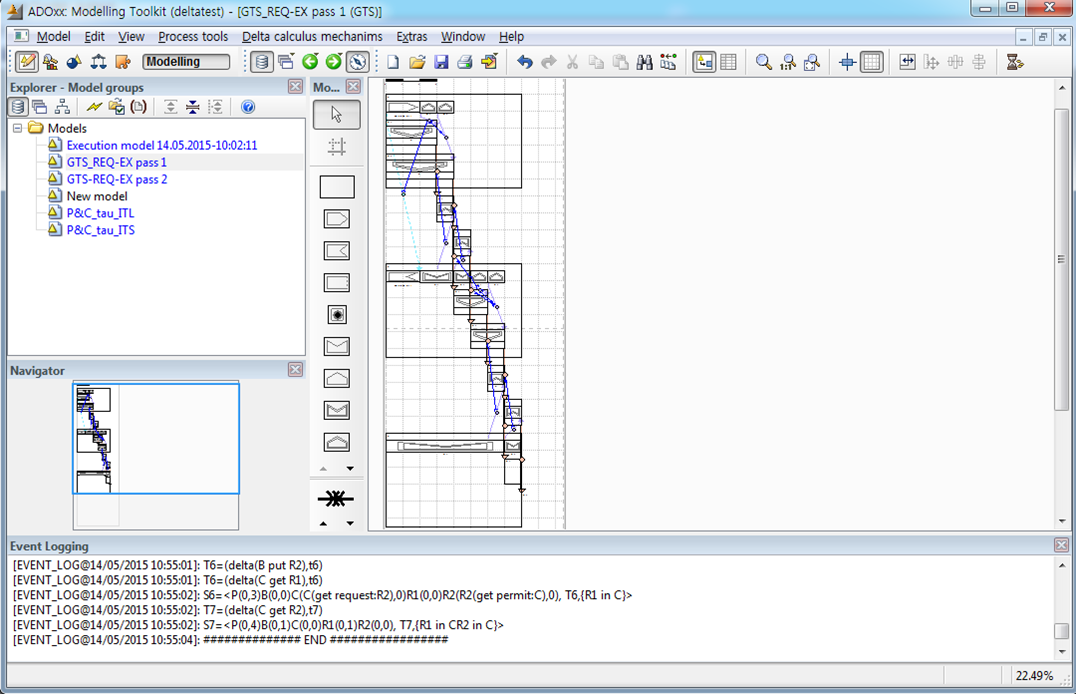 8. GTS Logic
1) Interactions
τ

: Communication

τ

_

1=

(

P:

PB,(

(

Send R1

) ̅

)

,B:PB(Send R1))

τ

_

2

=(P:PB,((Send R

2

) ̅

)

,B:PB(Send R

2

))

δ

: Movements

δ

_1

,1

=

(P:

put R1,R1:P put)

δ

_1,

2

=

(P:put R

2

,R

2

:P put)

δ

_

2

,1=

(

B

:

ge

t R1,R1:

B

ge

t)

δ

_

2

,2=

(

B

:

ge

t R2,R2:P

ge

t)

δ

_

3

,1=

(

B

:put R1,R1:

B

put)

δ

_

3

,2=

(

B

:put R2,R2:

B

put)

δ

_

4

,1=

(

C

:

ge

t R1,R1:

C

ge

t)

δ

_

4

,2=

(

C

:

ge

t R2,R2:

C

ge

t)
Rq1=

τ

_1

→∀i:(

δ

_(i,1)<

δ

_(i,2) ) [i=1,2]

Rq

2

=

τ

_

2

→∀i:(

δ

_(

i

,

2

)

<

δ

_(

i

,

2

)

)

[i=1,2]

Rq

3

=

τ

_1

∨

τ

_

2<

δ

_1,1

∧

δ

_1,

2

Rq

4

=

δ

_1,1<B:(get R1)

Rq

5

=

δ

_

1

,

2

<B:(get R

2

)

Rq

6

=

δ

_

2

,

1

<B:(

put

R1)

Rq

7

=

δ

_

2

,

2

<B:(

put

R

2

)

Rq

8

=

δ

_

3

,

1

<

C

:(get R1)

Rq

9

=

δ

_

3

,

2

<

C

:(get R

2

)