SAVE/ADOxx
2016.06.29 15:04:56 (*.70.193.131)
9825
1. EMS: Emergency Medical Systems
1) Main Theme
"Ambulances deliver patients to hospitals."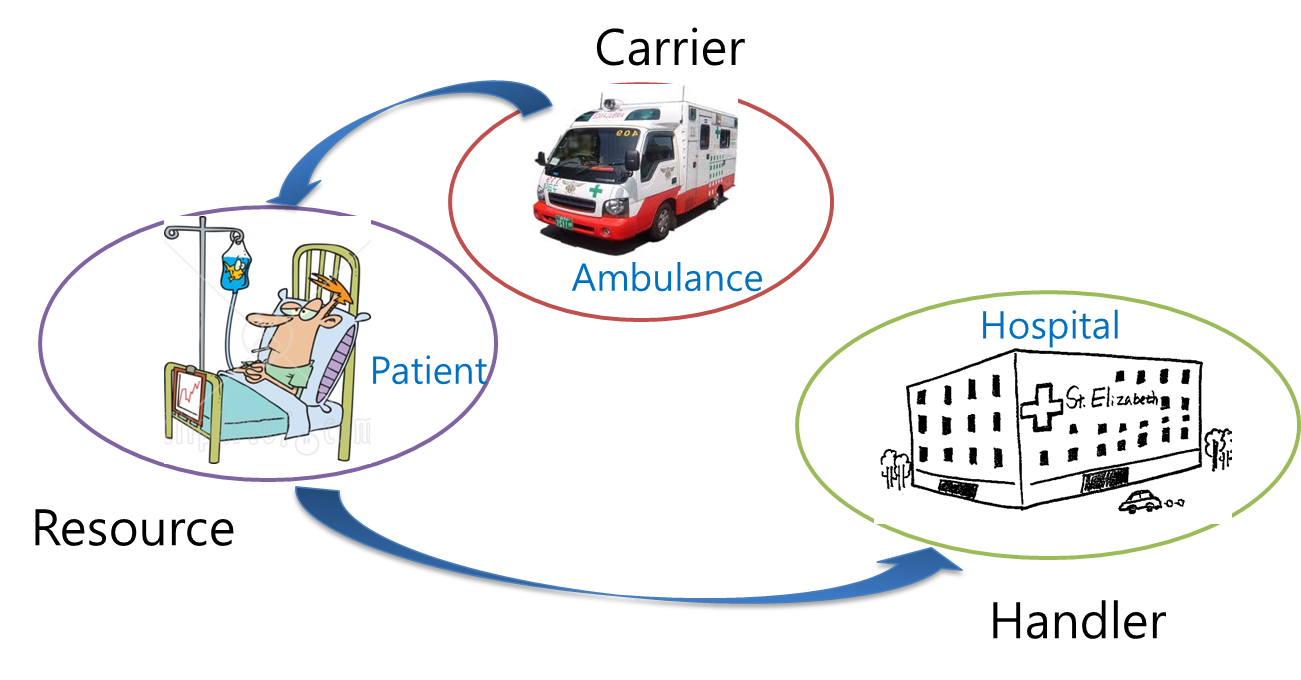 2) Configuration
Carrier: 2 Ambulances

Sources: 5 Places

Resources: 4 Patients

2 Patient at House A

2

Patient

at

House

B.

Destination: 3 Hospitals
2. Operational Requirements
One of the patients at each location calls 911 of their status.

The 911 sends its ambulance to the location.

Each ambulance moves to the location to transport the patients

to hospitals.

The ambulance follows orders from 911.

Once two patients at the location get on the ambulance, the ambulance moves to the hospital.

Each patient will be transported to the appropriate hospital for treatment.

Once all the patients are properly transported, all the ambulance will return to the 911.
3. Specification: d-Calculus
EMS=911[AM1∥

AM2]∥HA∥HB∥L1[PA1∥PB1]∥L2[PA2∥PB2]

911=P(L1 Info).A1(R ̅ ).AM1 out.A1((L1) ̅ ).

P(L

2

Info).A

2

(R ̅ ).AM

2

out.A

2

((L

2

) ̅

).

((A1((getAB) ̅ ).

A

2

((

getAB) ̅ ))

⨁_

1^1

((A1((getA) ̅ ).

A

2

((

get

B

) ̅

))

⨁_2^

2

(A1((getB) ̅ ).

A

2

((

getA) ̅ ))))

.

AM1 in.AM2 in.exit

AM1=A(R).out 911.A1(L1).(A1(getAB)

⨁_

1^1

(A1(getA)

⨁_2^

2

A1(getB))).

((in L1.get PA1.get PB1.out L1)

⨁_

1^

((in L1.get PA1.out L1)

⨁_2^

(

in L1.get PB1. out L1))).

((in HA.put PA1.out HA)

⨁_

1^

(

(

in

L2.get

PA

2

.out

L2)

⨁_2^

(

in

L2.get

PB

2.

out

L

2))).

((in HB.put PB1.out HB)

⨁_

1^

(

(

in HA.put PA1.

put PA2.

out HA)

⨁_2^

(

in HB.put PB1.

put PB2.

out HB)))

.

in 911.exit

AM

2

=A(R).out 911.A

2

(L

2)

.(A

2

(

getAB)

⨁_

1^1 (A

2

(

get

B)

⨁_2^

2 A

2

(

get

A)))

.

((in L

2

.get PA

2

.get PB

2

.out L

2)

⨁_

1^

((in L

2

.get PB

2.

out L

2)

⨁_2^

(

in L

2

.get PA

2.

out L

2)))

.

((in HB.put PB

2.

out HB)

⨁_

1^

((in L

1

.get PB

1.

out L

1)

⨁_2^

(

in L

1

.get PA

1.

out L

1)))

.

((in HA.put PA

2.

out HA)

⨁_

1^

((in HB.put PB

1.

put PB

2.

out HB)

⨁_2^

(

in HA.put PA1.put PA2.out HA))).

in 911.exit

L1=((AM1 in.AM1 out)

⨁_^

1

(AM1 in.AM1 out.AM2 in.AM2 out)).

∅^∞

L

2

=((AM

2

in.AM

2

out)

⨁_^

1 (AM

2

in.AM

2

out.AM

1

in.AM

1

out)).

∅^∞

PA1=P((L1 Info) ̅ ).(

(

AM1 get.AM1 put)

⨁_^

1

((AM1 get.AM1 put)

⨁_^

2 (AM2 get.AM2 put))).

∅^∞

P

B

1=((AM1 get.AM1 put)

⨁_^

1 ((AM

2

get.AM

2

put)

⨁_^

2 (AM

1

get.AM

1

put))).

∅^∞

PA

2

=P((L

2

Info) ̅ ).((AM

2

get.AM

2

put)

⨁_^

1 ((AM1 get.AM1 put)

⨁_^

2 (AM2 get.AM2 put))).

∅^∞

P

B2=

((AM

2

get.AM

2

put)

⨁_^

1 ((AM

2

get.AM

2

put)

⨁_^

2 (AM

1

get.AM

1

put))).

∅^∞

HA=((AM1 in.AM1 out.AM2 in.AM2 out)

⨁_^

1

((AM1 in.AM1 out)

⨁_^

2

(AM2 in.AM2 out))).

∅^∞

H

B

=((AM

2

in.AM

2

out.AM

1

in.AM

1

out)

⨁_^

1 ((AM

2

in.AM

2

out)

⨁_^

2 (AM

1

in.AM

1

out))).

∅^∞
4. Step 1: ITL View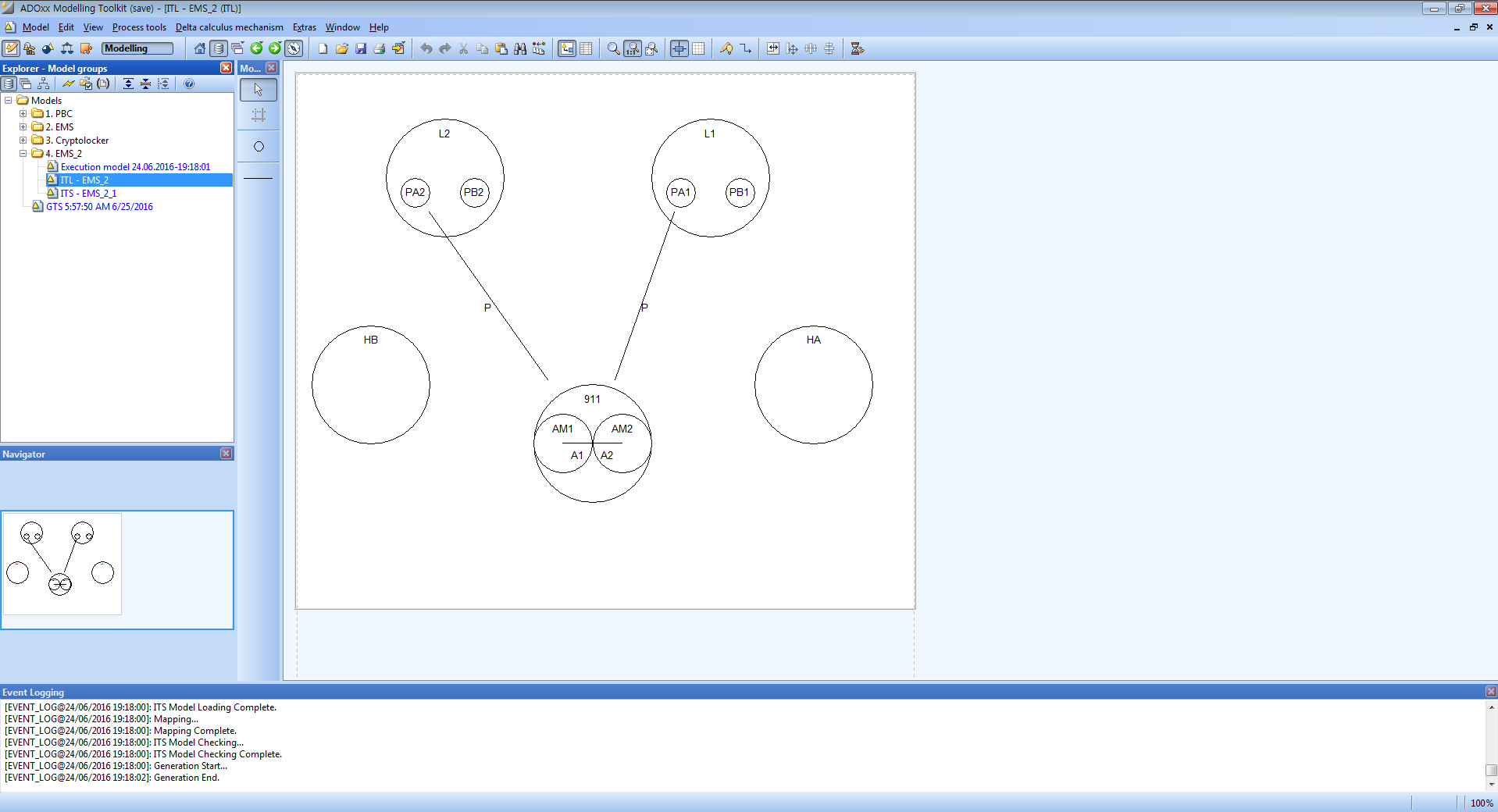 5. Step 2: ITS View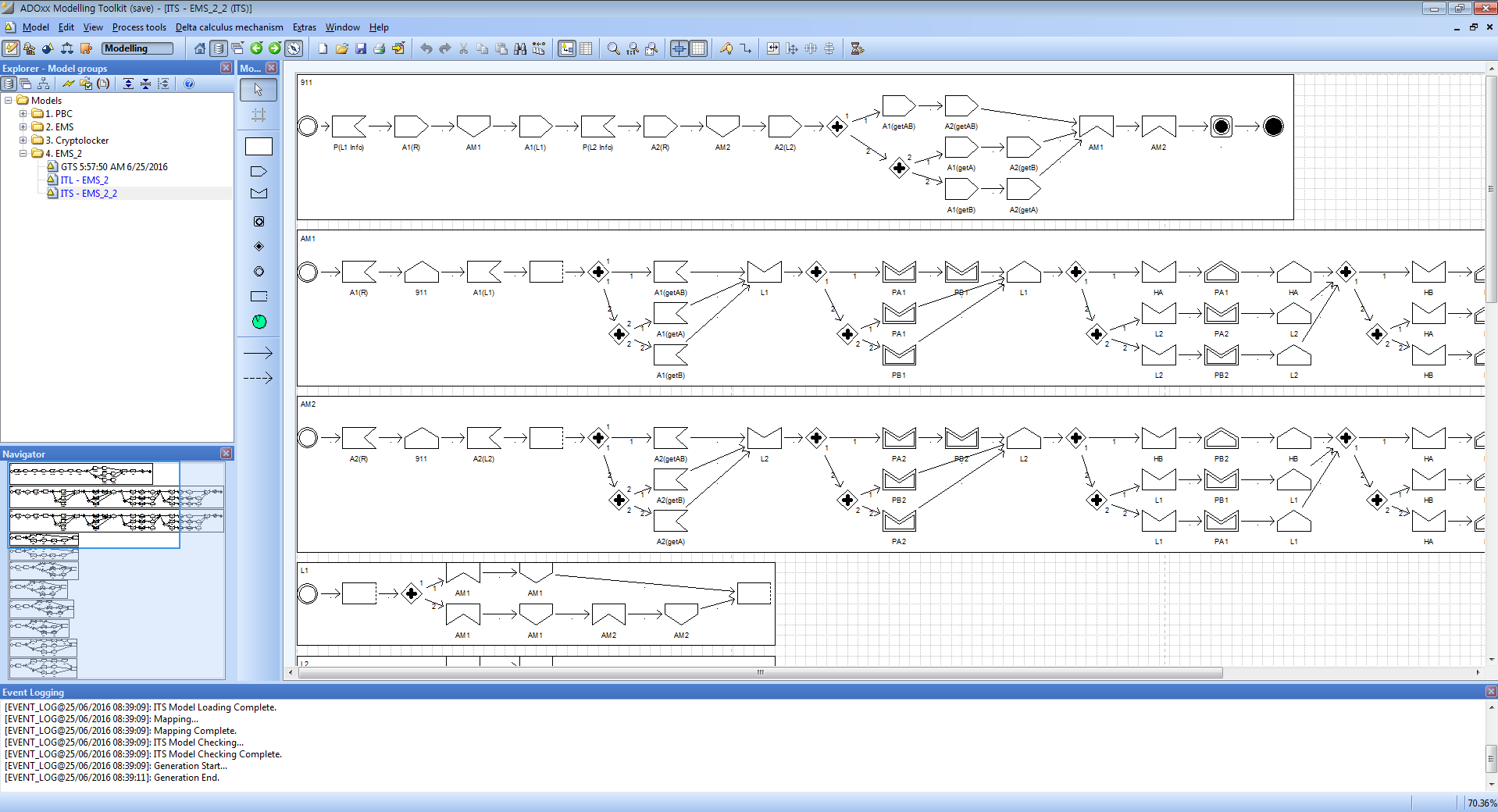 6. Step 3: Execution Model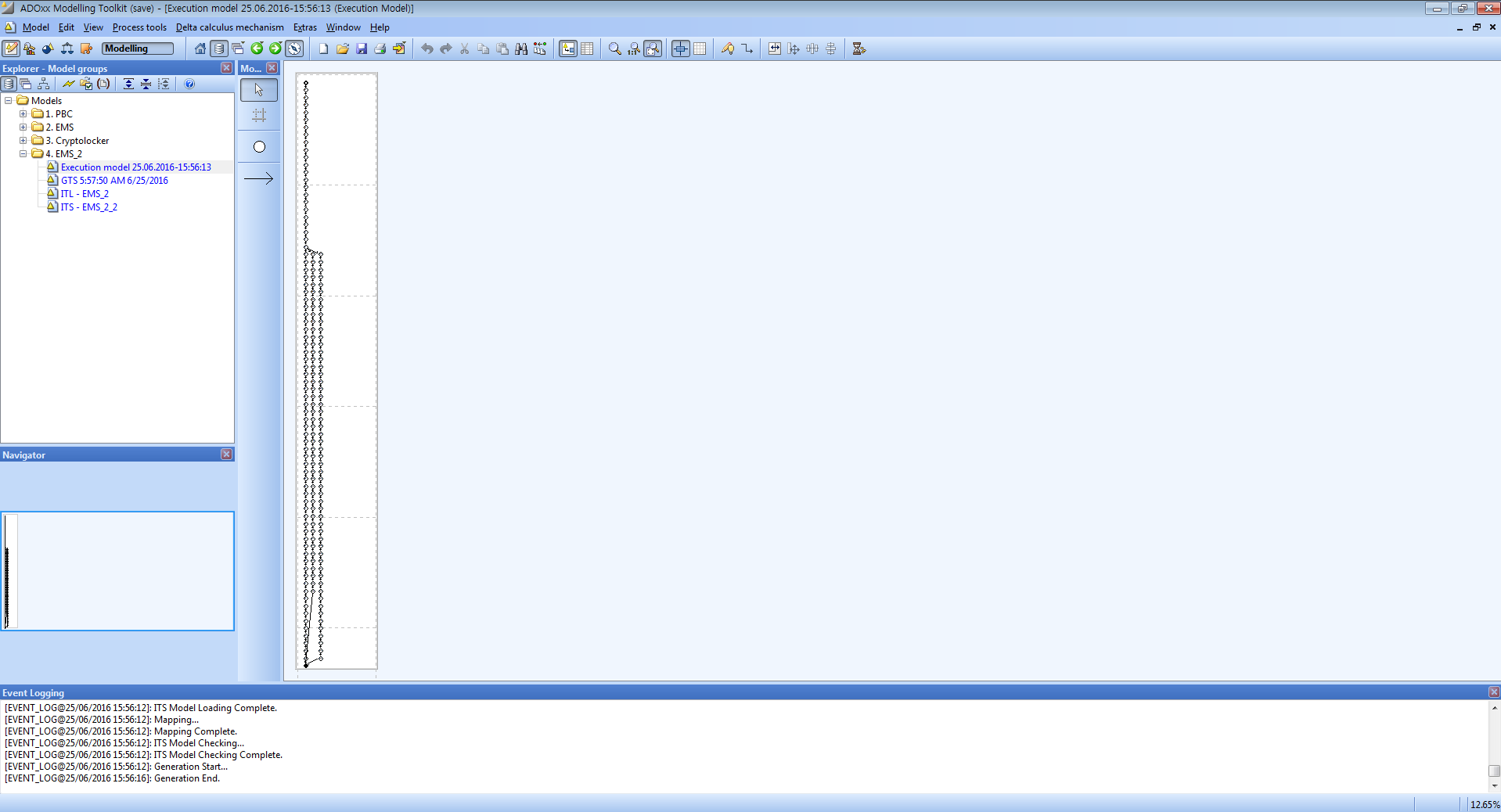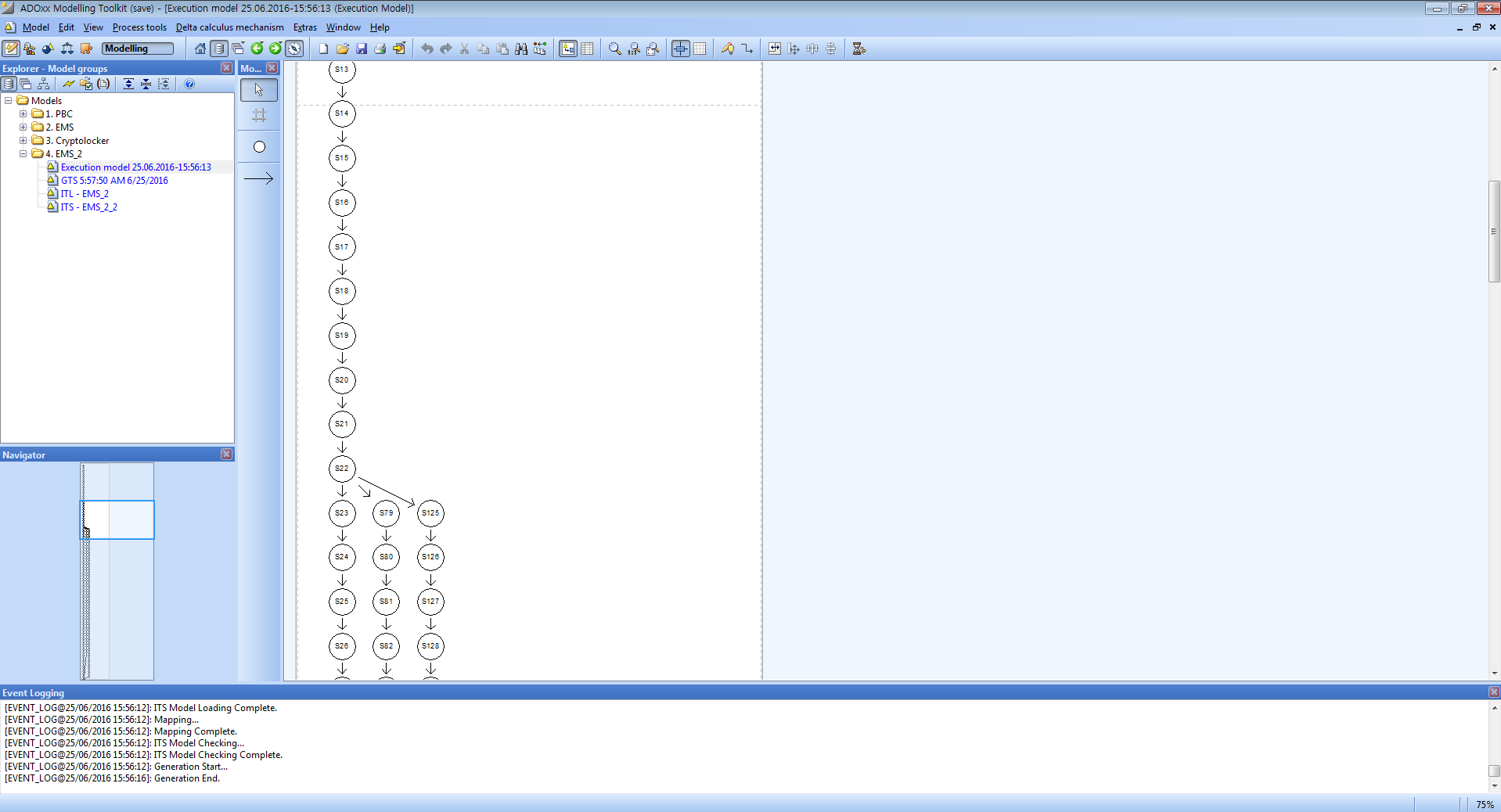 7. Simulation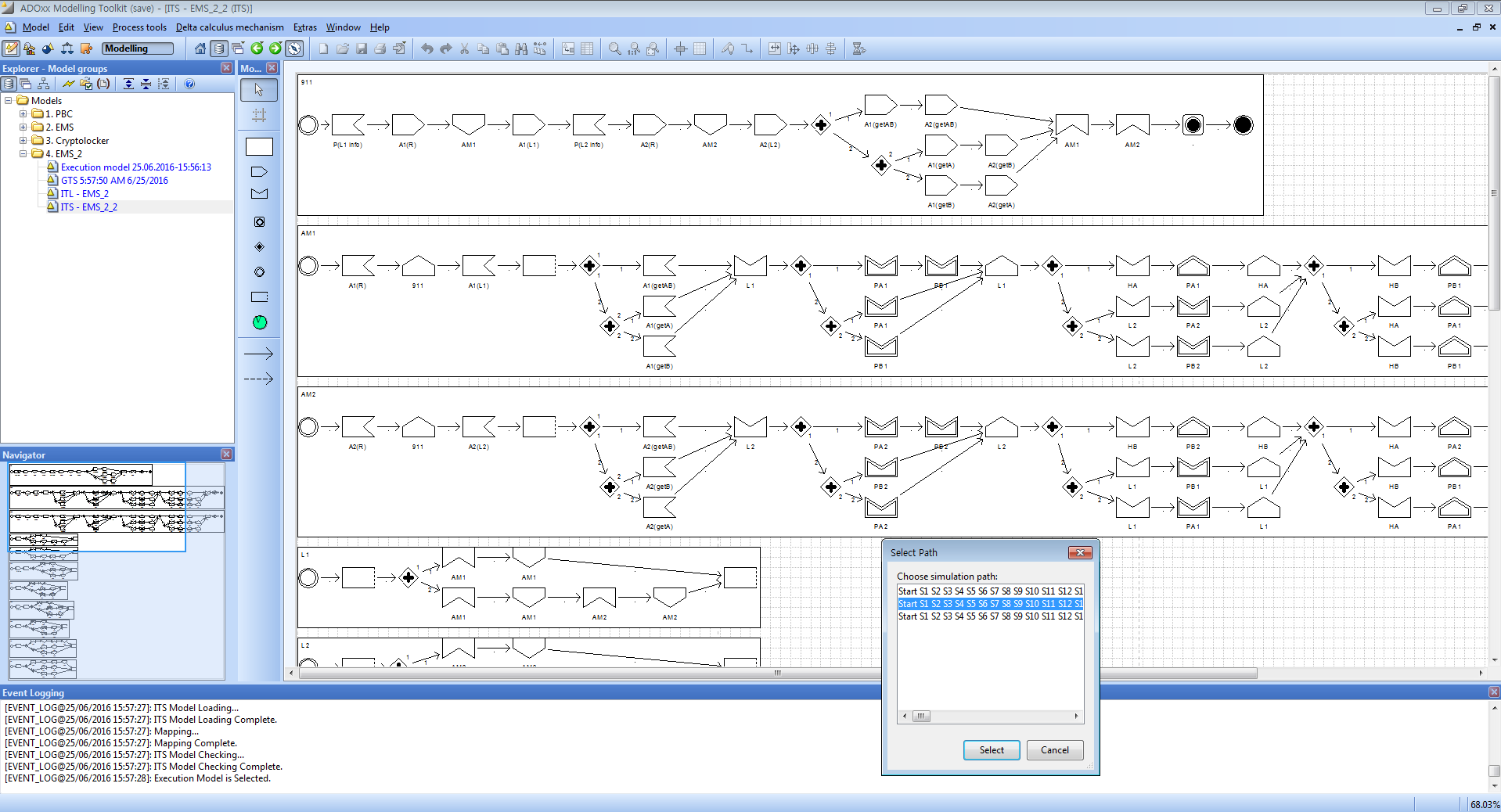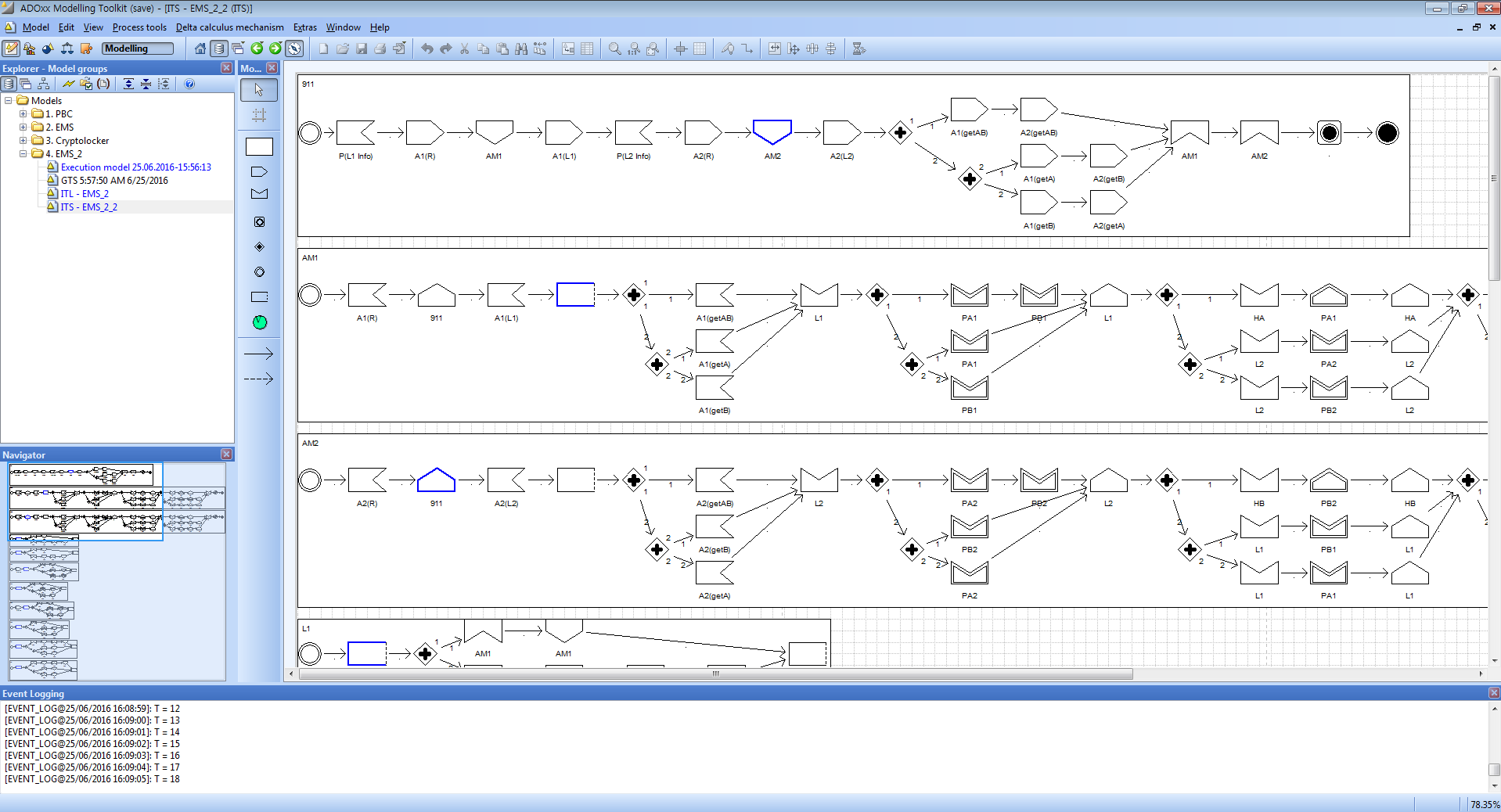 8. GTS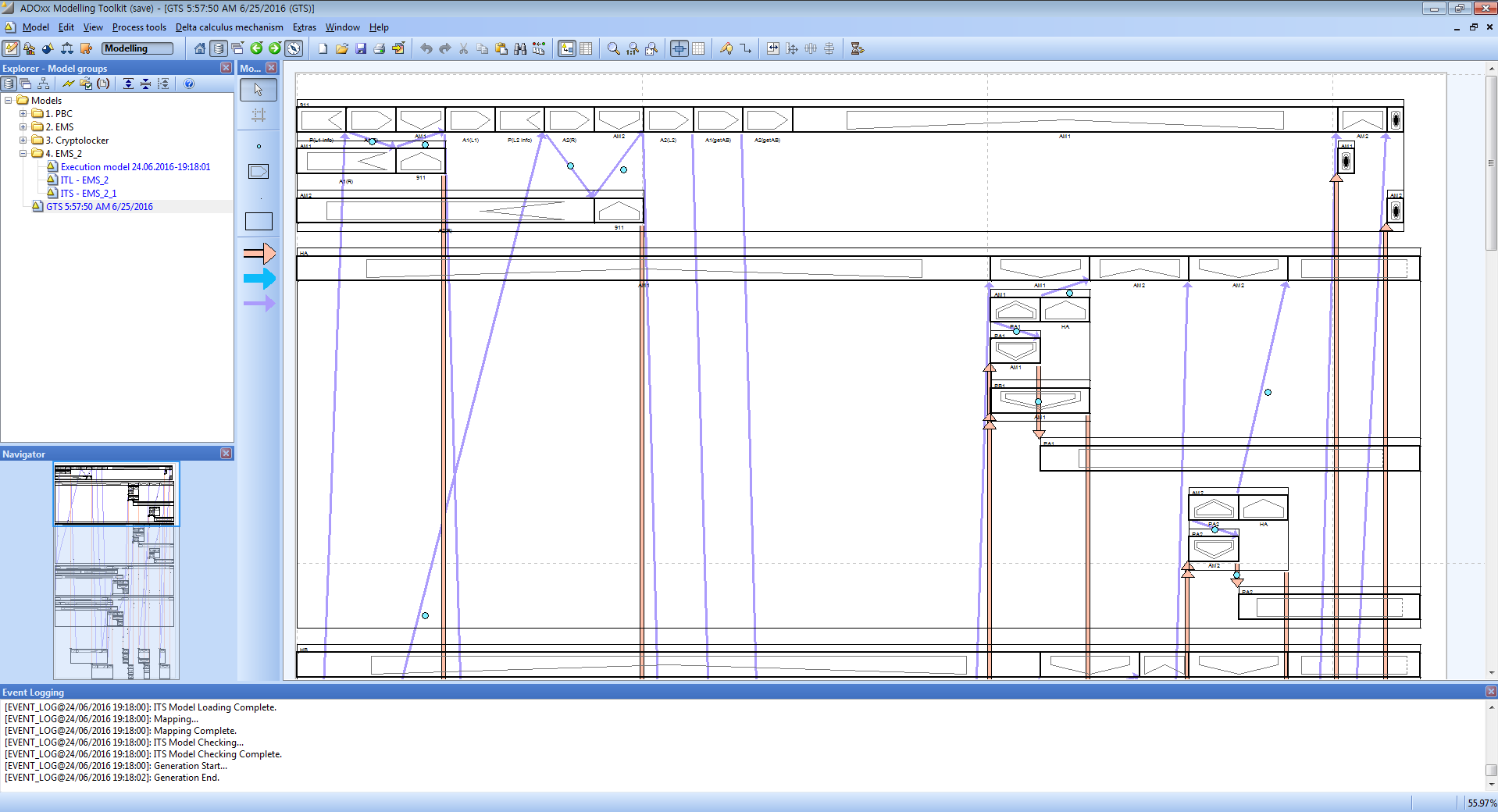 9. Secure Requirements
PA1, PA2 must be transported to HA.

R1:

(AM1:get PA1)→

((AM1:in HA)<

(AM1:put PA1)<(AM1:out HA))

R2:

(AM

2

:get PA1)→

((AM

2

:in HA)<

(AM

2

:put PA1)<(AM

2

:out HA))

R3:

(AM1:get PA

2

)→

((AM1:in HA)<

(AM1:put PA

2)

<(AM

2

:out HA))

R4:

(AM

2

:get PA

2

)→

((AM

2

:in HA)<

(AM

2

:put PA

2)

<(AM

2

:out HA))

PB1, PB2 must be transported to HB.

R5:

(AM1:get PB1)→

((AM1:in HB)<

(AM1:put PB1)<(AM1:out HB))

R

6:

(AM2:get PB1)→

((AM2:in HB)<

(AM2:put PB1)<(AM2:out HB))

R7:

(AM1:get PB2)→

((AM1:in HB)<

(AM1:put PB2)<(AM2:out HB))

R8:

(AM2:get PB2)→

((AM2:in HB)<

(AM2:put PB2)<(AM2:out HB))

AMB must transport all the patients at one location or of a kind.

R9:

(AM1:get PA1)→

((AM1:get PB1)∨(AM1:get PA2))

R10:

(AM1:get PB1)→

(AM1:get PB

2)

R11:

(AM

2

:get PA

2

)→

((AM

2

:get PB

2)

∨

(AM

2

:get PA

1))

R12:

(AM

2

:get PB

2)→

(AM

2

:get PB1)
10. GTS Logic