SAVE/ADOxx
2016.06.29 15:17:03 (*.70.193.131)
5411
1. EMS
1) Configuration
3 Ambulances

A, B in 911

C in Hospital A

5 Places

4 House: A, B, C, D, E

1 School

8 Patients

4 Patients at each House

4 Patients at School

3 Hospital

A: 1 Restroom, 1 Surgery, 3 Doctor

B:

1 Restroom, 1 Surgery, 3 Doctor

C:

1 Restroom, 1 Surgery,

2 Doctor

1 911

1 CS
2. Operational Requirements
Patients at each location inform CS of their own emergency situation.

CS informs

911 and Hospitals of the situations with respect to type of energencies at the locations

.

Each

Amb moves to the locations and transport the patients as informed

.

Each

Amb is directed by its proper authrity from

911 or Hospital.

each

Amb informs its target

Hospital in order for the doctors at the hospital to be ready to handle the patients at its arrival.
3. Operation Specification: δ-calculus
4. SAVE : ITL Specification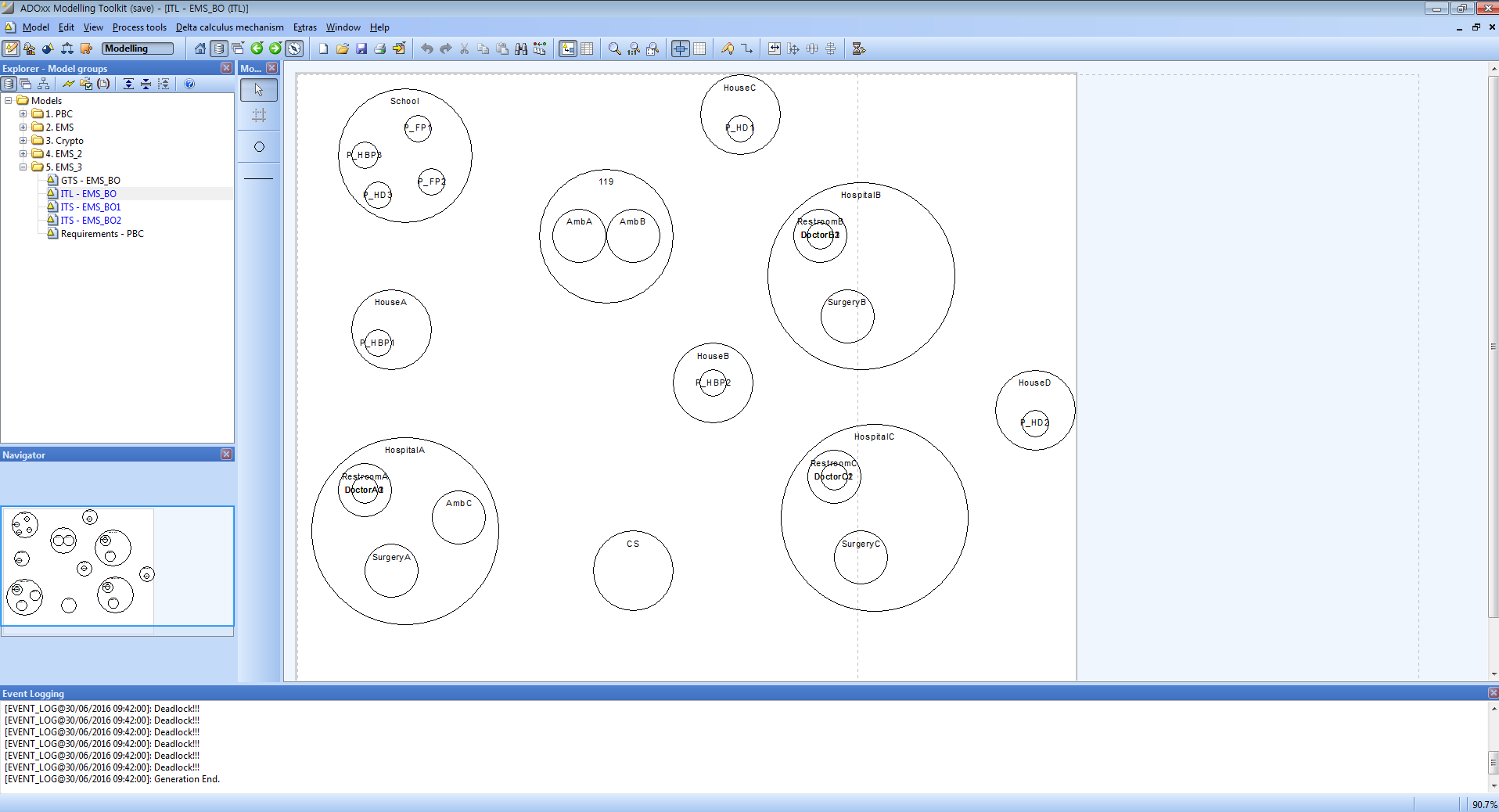 5. SAVE : ITS Specification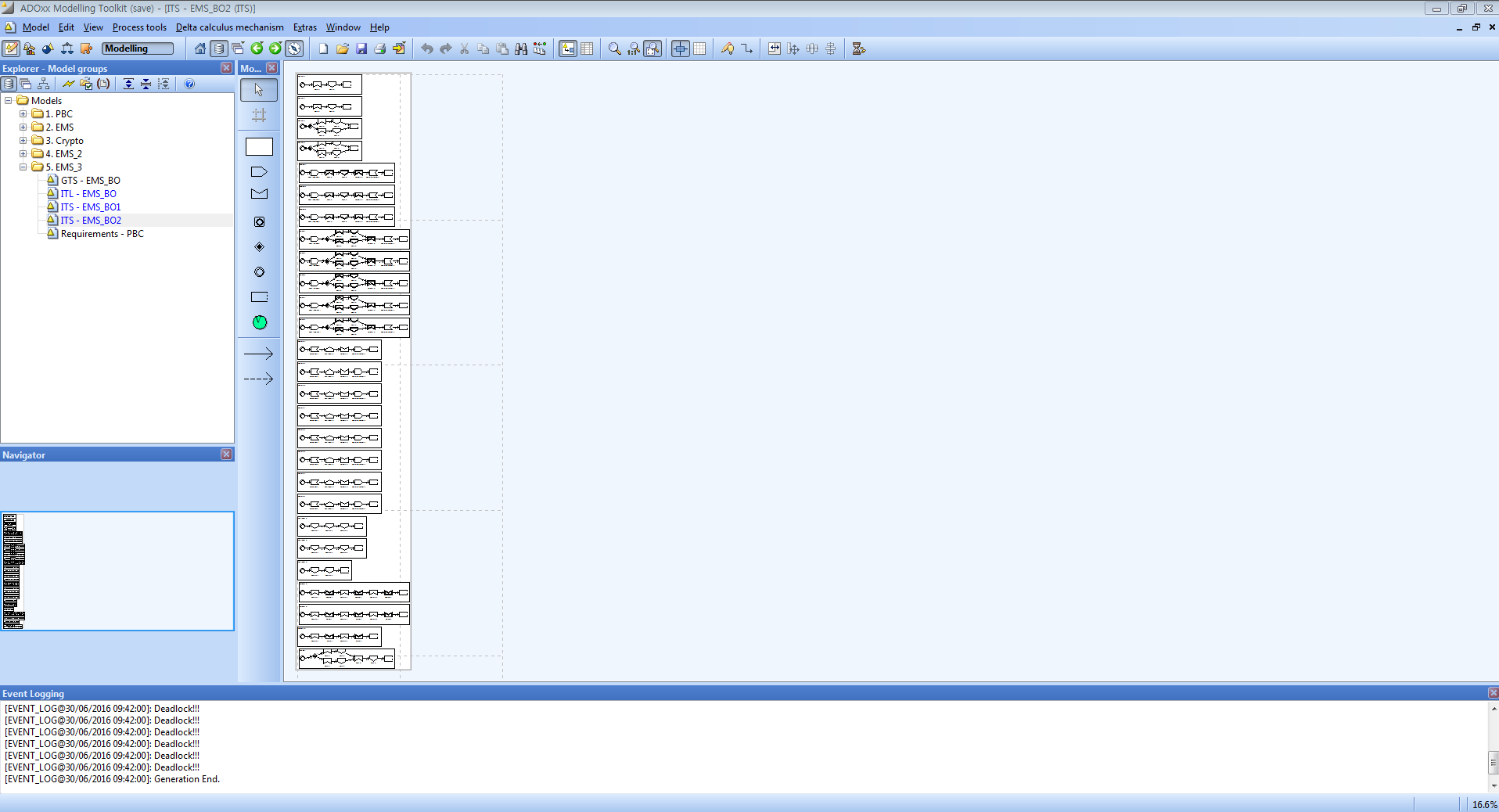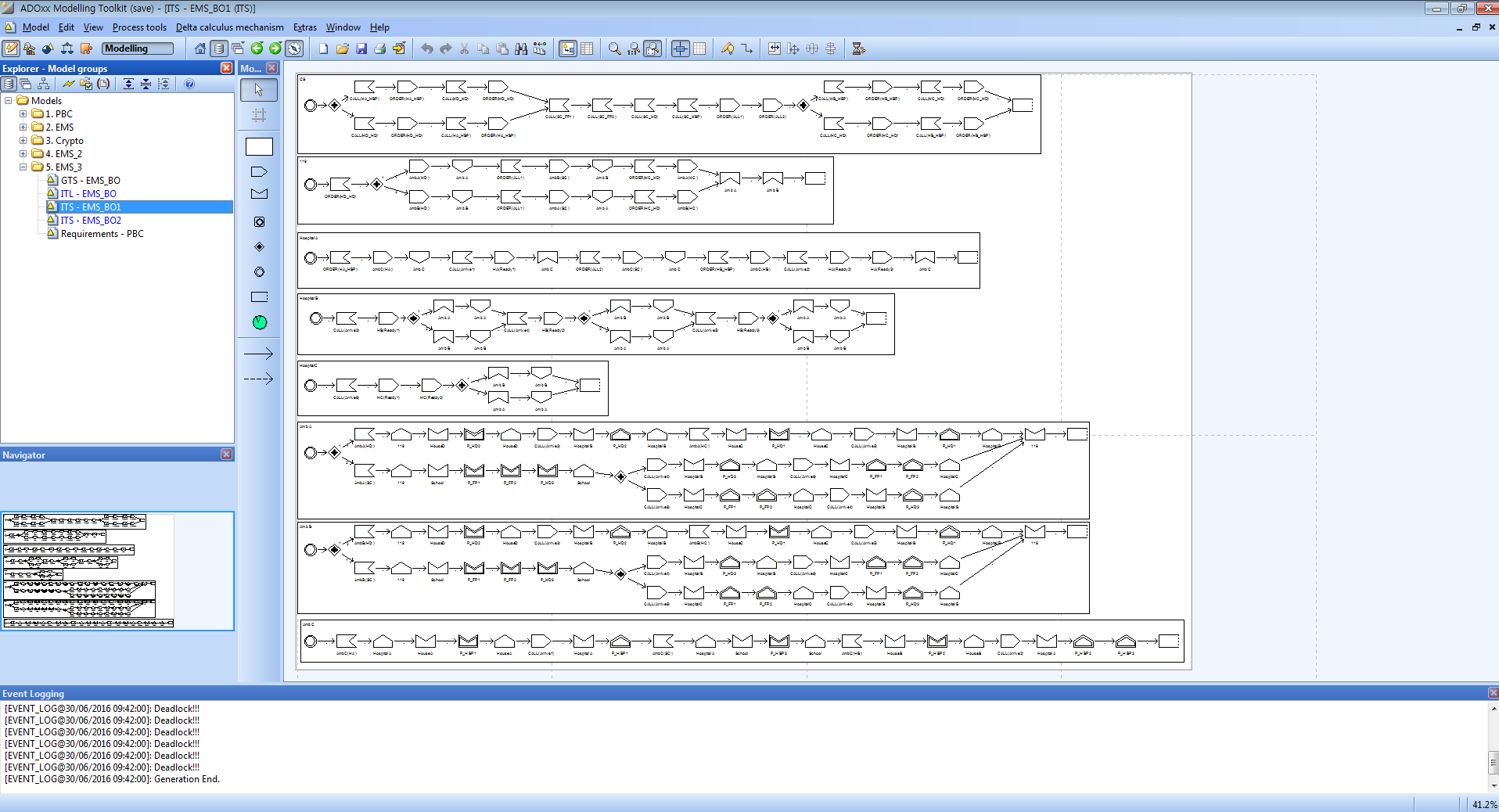 6. EM Generation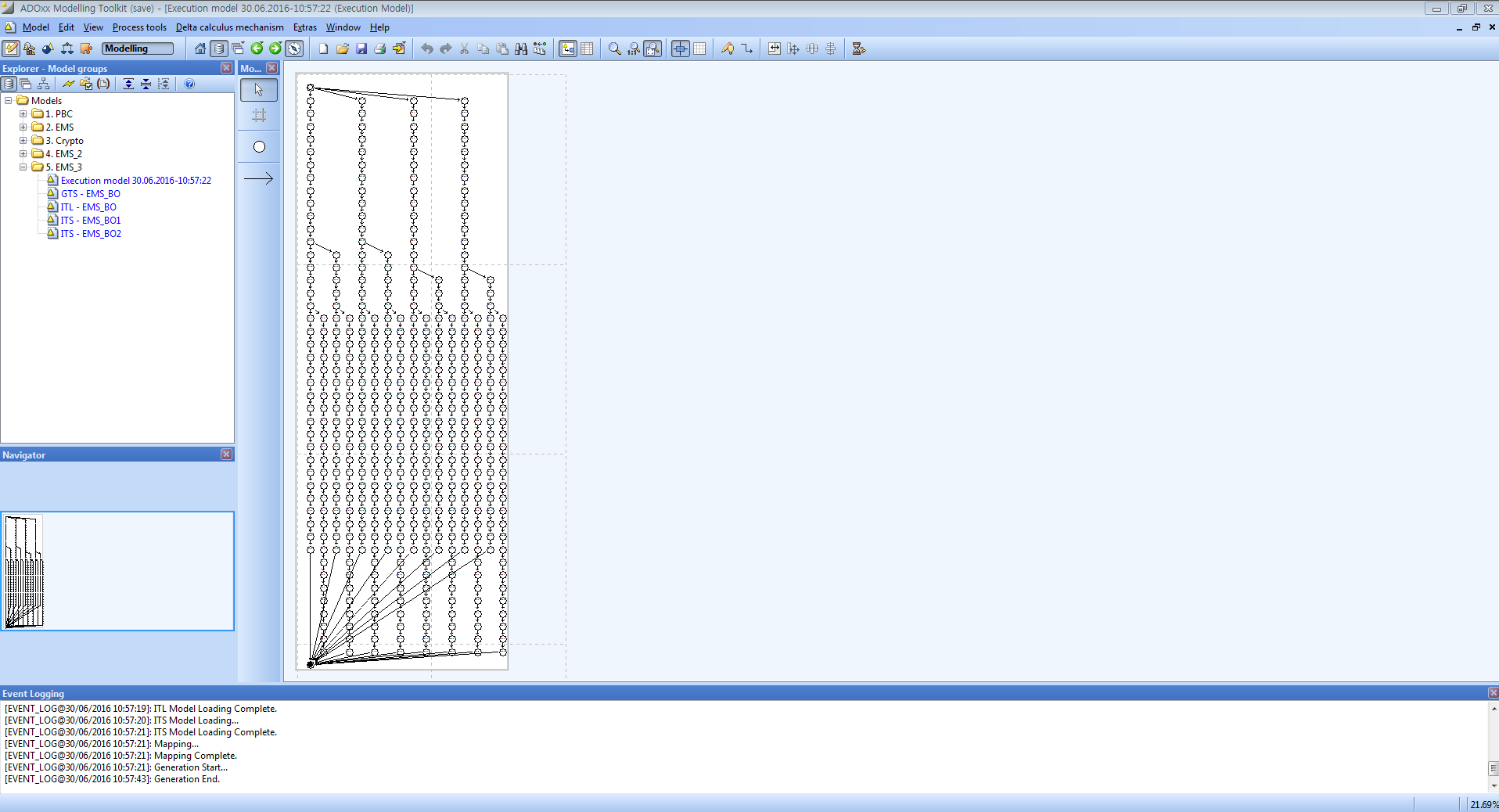 7. Simulation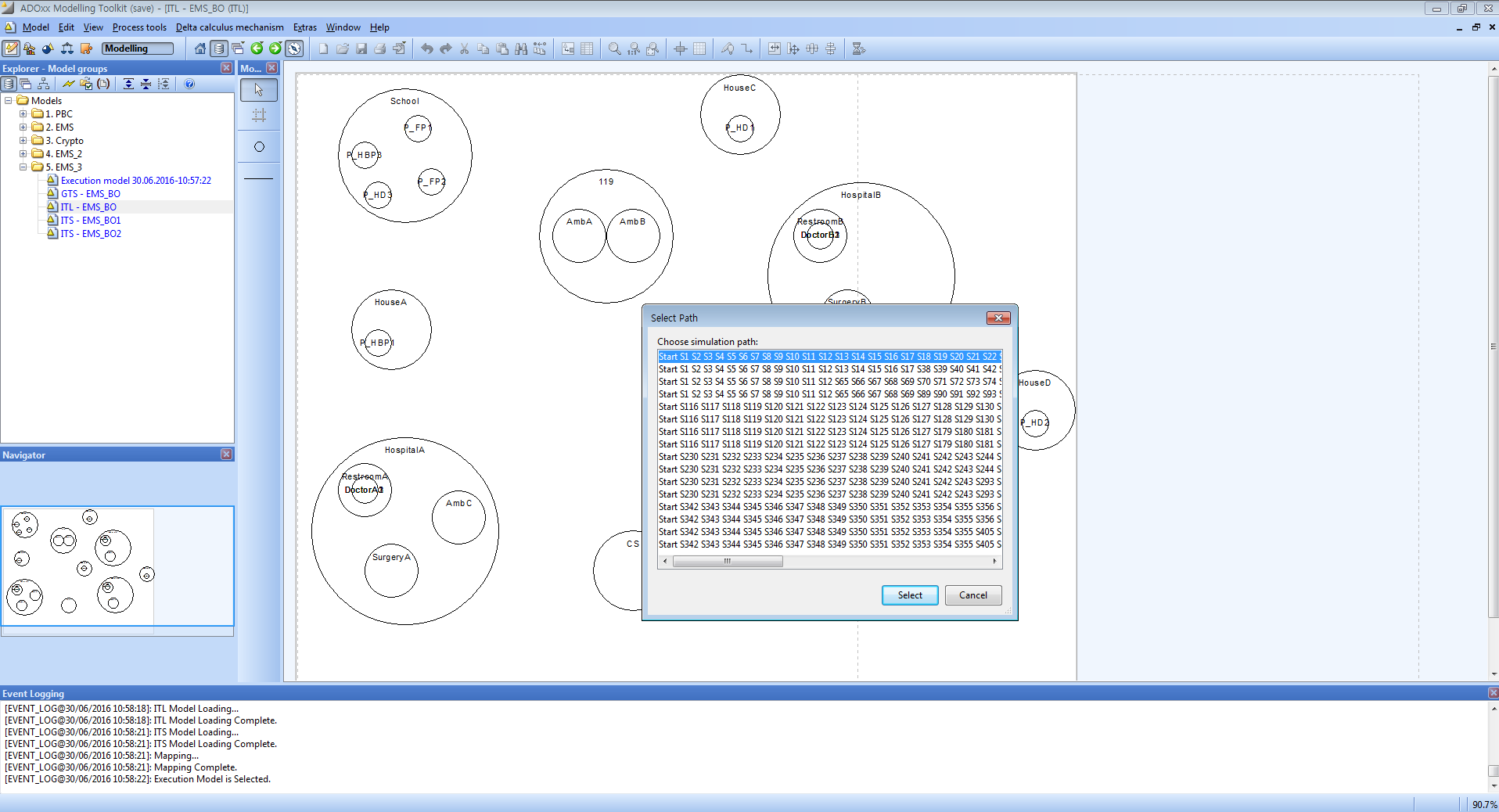 8. GTS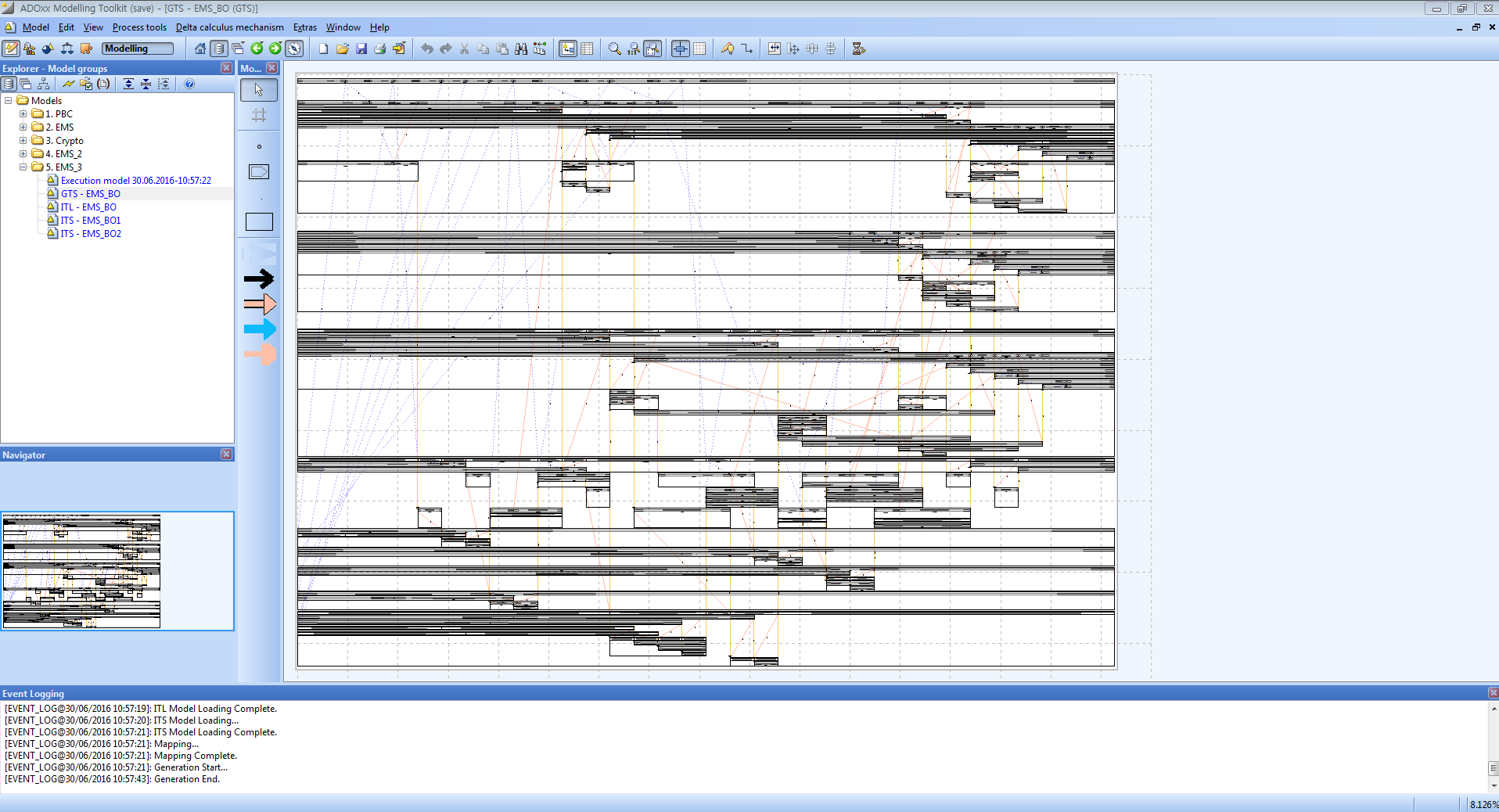 9. Secure Requirements
HBP Patient to be transported to

Hospital A:

R1:

(P_HBP1 :CALL((

HA_HBP

) ̅)

→(SurgeryA:get P_HBP1)

R2:

(P_HBP

2

:CALL((H

B

_HBP) ̅)

→(SurgeryA:get P_HBP

2

)

R3:

(P

_

HBP

3

:CALL((

SC

_HBP) ̅)

→(SurgeryA:get P_HBP

3

)

HD

Patient to be transported to

Hospital B

:

R4:

(P_HD1 :CALL((H

C

_HD) ̅)

→(SurgeryB:get P_HD1)

R5:

(P_HD

2

:CALL((H

D

_HD) ̅)

→(SurgeryB:get P_HD

2

)

R6:

(P_HD

3

:CALL((

SC

_HD) ̅)

→(SurgeryB:get P_HD

3

)

FP patient to be transported to

Hospital C

:

R7:

(P_

FP

1 :CALL((

SC

_

FP1

) ̅

)

→(SurgeryC:get P_

FP

1)

R8:

(P_

FP2 :

CALL((

SC

_

FP2

) ̅

)

→(SurgeryC:get P_

FP2)

Doctor should prepare for treatment before patients are arrived:

R9:

(DoctorA1:in SurgeryA)<(SurgeryA:get P_HBP1)

R10:

(DoctorA

2

:in SurgeryA)<(SurgeryA:get P_HBP

2

)

R11:

(DoctorA

3

:in SurgeryA)<(SurgeryA:get P_HBP

3

)

R12:

(Doctor

B1:

in SurgeryB)<(SurgeryA:get P_HD1)

R13:

(Doctor

B2:

in SurgeryB)<(SurgeryA:get P_HD

2)

R14:

(Doctor

B3:

in SurgeryB)<(SurgeryA:get P_HD

3)

R15:

(Doctor

C1:

in SurgeryC)<(SurgeryA:get P_

F

P1)

R16:

(Doctor

C2:

in SurgeryC)<(SurgeryA:get P_

F

P

2

)
10. Verification: GTS Logic